Thinking of upgrading your kitchen this year? How about a refrigerator that has different cooling zones? Or a hub that gets you the recipe you want, as well as lets you do your shopping?
If you think these appliances are elements in a sci-fi flick, think again. These devices are already on display at the Consumer Electronics Show 2016 in Las Vegas, and some of them will be available to consumers sometime this year.
Sungale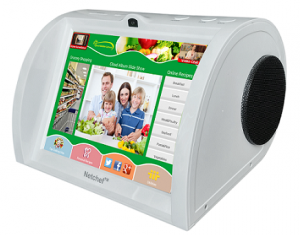 Sungale brought the Netchef G3 to CES 2016. The device features a touchscreen display and voice recognition so users can easily ask for recipes, do online shopping, monitor their homes with its built-in camera, listen to music, browse the Internet, watch videos and so much more.
Another device from Sungale is the Kitchen Screen, a tablet designed to be stuck on the refrigerator door that also serves the same functions as the Netchef G3.
Written by: MELLISA TOLENTINO
Click the link below to enjoy the complete article:
https://siliconangle.com/2016/01/08/ces-shows-off-the-kitchen-of-the-future-ces2016/
Please follow and like us: